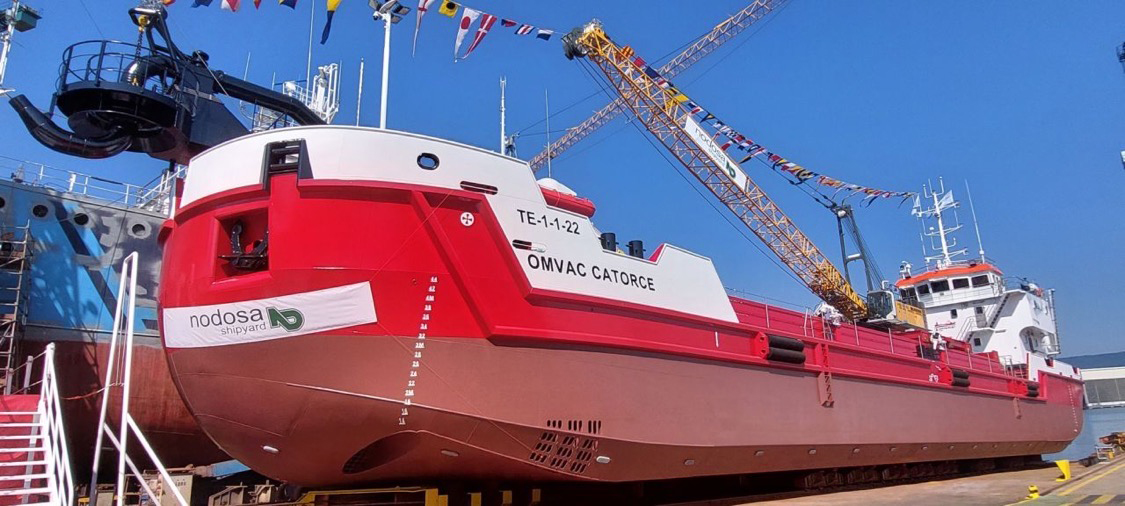 Launching of the Tshd Omvac Catorce
Today we celebrate the launching of our new dredger OMVAC CATORCE of about 64m length per 12,50m beam and hopper capacity of about 1200m³.
The OMVAC CATORCE is a self-propelled vessel type TSSHD (Trailing Suction Split Hopper Dredger). It is equipped with a dredging system that can reach up to 30 m depth, and it also includes a Liebherr crane, dragline type, that moves from bow to stern above the hopper.
The size and versatility of this dredger, due to the joint of two dredging systems, suction and mechanical means, allow us to answer to the different needs that arise in the different projects with the same equipment.
The OMVAC CATORCE complies with the IMO TIER III regulation of the International Maritime Organization regarding control and reduction of polluting NOx (nitrogen oxide) emissions and greenhouse effect, highly harmful to the environment. By complying with this regulation, the dredger will be up to date with these type of environmental regulations and may sail and work in any part of the world, including the currently more protected areas named Emission Control Areas (ECA).
Tags :